Interview: Orv Beach, Publicity Chair/SCaLE (Southern California Linux Expo)
Our Mailbag Editor, Kat Tanaka Okopnik, caught up with Orv while attending SCaLE and instantly decided that this cheerful, likeable, energetic fellow deserved to be lightly grilled and served up to our readers. After an exchange of emails at 50 paces (or 3000 miles - it was rather difficult to tell from the ping times), the following interview came into being.
Seriously, though - Kat and I attended SCaLE and enjoyed it very much; Orv and his fellow Linuxers did an excellent job of getting everything set up, and the event went off as smoothly as any of the larger Linux cons that I've attended in the past. Be sure to join Orv and friends next year, as they spin up SCaLE 6x; if it's anything similar to the way SCaLE 5x turned out, it'll be a "don't miss" event.
-- Ben Okopnik
---
Kat: What makes SCaLE different from other conferences?
Orv: It's certainly different from LinuxWorld Expo, which is almost completely commercial. That's OK - that's their focus. But SCaLE is focused on educating the end user. And in fact, that's in our mission statement. We try to cover a broad range of topics of interest to the Open Source software user, be they home user or system administrator.
To be fair, there other other non-commercial conferences, and their number is growing: Along the same vein as SCaLE are the Ohio Linux Fest (http://www.ohiolinux.org/) and LinuxFest Northwest (http://www.linuxfestnorthwest.org/). Obviously these regional conferences are filling a need!
Kat: Who is (are) SCaLE's primary audience? Who should attend SCaLE as their primary or only conference?
Orv: To be honest, it's all over the map. We get everyone from corporate IT guys clear down to high school students - and they're all equally valuable; the computer club student of today will be an IT direction-influencer in four or five years. We believe that SCaLE is equally valuable to each attendee. It's worked out that we've had a "newbie" session track on alternate years recently, and those sessions have been some of the most heavily attended at SCaLE. So, obviously we have an attraction to the newcomer to Linux and Open Source Software.
We frequently have developers from the Open Source community attend SCaLE, too. Their talks about what's coming up lets attendees get a glimpse of the future in Open Source computing, and that's very exciting.
Kat: How did you get involved with SCaLE?
Orv: I've belonged to SCLUG (the Simi-Conejo Linux Users Group, in western Ventura County, California), since about 1998. As the Information Systems Manager at the Nortel facility in Simi Valley, I was able to offer the facility as a meeting place for SCLUG. In 1999, Gareth Greenaway, one of the founders of SCLUG, suggested that SCLUG host a "LUGFest" which would be an event where users or groups could demonstrate some aspect of Open Source software. The first LUGFest was held one afternoon in the Nortel Simi Valley cafeteria. It had about ten demonstrations and drew about 100 people. In spite of those semingly small numbers, SCLUG knew they were onto something. LUGFests were held every 6 months thereafter, and LUGFest IV held over two days, drew almost 400 people. Every meeting room in the Nortel facility was booked for a seminars, and about a dozen vendors actually attended.
Shortly thereafter Nortel, being a pioneer in the dot-com crash, closed their Simi Valley facility. SCLUG found an alternate place to meet, but it brought the LUGFests to an end.
However, the LUG members realized that the LUGFests filled a need, a hunger for more information about Open Source software, and were determined to replace them with something equivalent. Discussions with other LUGs resulted in a collaboration of SCLUG, the UCLA LUG and the USC LUG. That led to SCaLE 1, which was held in USC's Davidson Conference Center in November of 2002. It was a one day affair, with 26 booths, and drew 400 people.
Growth in size and attendance has been steady year over year. SCaLEs 2x and 3x were held at the Los Angeles Convention Center. SCaLE 4x was held at the Radisson hotel down the street from LAX. The recently held SCaLE 5x had an expo floor 35% larger than that of S4X, and 25% more booths. It had 69 exhibitors' booths, and resulted in over 1300 badges being printed (including vendors and exhibitors), compared to 900 the year before. That growth reflects the increasing popularity and use of Open Source software.
Kat: What's the most unexpected thing about SCaLE?
Orv: How far people will come to participate in a regional computer show. We have speakers come from all over the globe, and an estimated 15% of our guests come from outside of California.
Kat: What was new this year at SCaLE? Are you planning to repeat it?
Orv: We're always trying new things. We were at a new location this year, necessitated by our growth. We tried vendor showcases this year. They was not especially successful, so we'll consider whether we'll continue them or not. This year we also had wireless in the speaker rooms, which was very popular. We also "ruggedized" the network on the Expo floor, making it more resilient to adverse network conditions. That was very successful. We're always on the lookout for things that will improve the attendee experience.
Kat: What makes an in-person gathering like SCaLE different from a net.conference?
Orv: In spite of all the high-tech ways to communicate, face-to-face communication remains a very human, satisfying method of transferring information. The Expo provides an effective way for people to gain information they wanted, and also information they didn't know they needed (the serendipity thing - "I didn't realize there were three Open Source network management packages!")
Kat: What surprises people about SCaLE?
Orv: Several things; we get a number of comments every year from people like, "Wow, I didn't realize there was a Linux show in Los Angeles", in spite of this being our fifth year and in spite of our best PR efforts. Another thing that surprises some, mostly vendors, is that SCaLE is run with an all-volunteer staff.
Kat: What was your favorite SCaLE moment?
Orv: Although we continually work to reduce the wait times at Registration Saturday morning, seeing 60 people line up a half hour before opening is very satisfying. It's also extremely satisfying seeing members of the Open Source community step up and help put SCaLE on; it wouldn't be the success it is without the several dozen volunteers that step up every year to assist.
Kat: What's the best thing about being at SCaLE?
Orv: Seeing the energy and excitement on the Expo floor. Because it's held on a weekend, people who attend SCaLE are they because they WANT to be there.
Kat: What do you see SCaLE doing for next year's Expo?
Orv: The Friday mini-conferences have worked out very well the last couple of years. While the chairs haven't decided all the details, we've pretty much decided that SCaLE will be a three-day event from here on out. The Friday events haven't been nailed down for sure yet, but we may reprise an expanded healthcare mini-conference, since it was so successful this year. We're also considering Open Source in education as a valuable topic for the community. Whether it will be a Friday mini-conference, a specific session track on the weekend, or something else has yet to be decided.
In closing, we'd like to thank the local Open Source community for their support. Without them, SCaLE couldn't happen; they've made it the success it's become. Open Source software in Southern California is alive and well!
Talkback: Discuss this article with The Answer Gang
---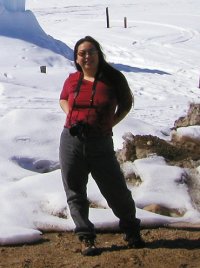 Kat likes to tell people she's one of the youngest people to have learned to program using punchcards on a mainframe (back in '83); but the truth is that since then, despite many hours in front of various computer screens, she's a computer user rather than a computer programmer.
When away from the keyboard, her hands have been found full of knitting needles, various pens, henna, red-hot welding tools, upholsterer's shears, and a pneumatic scaler.