Away Mission: LinuxWorld Morphs into OpenSource World
For years, August meant LinuxWorld in San Francisco. This year would have been the 13th annual LinuxWorld.
LinuxWorld is no more, having transmogrified into three overlapping conferences: the brand new OpenSource World, the Next Generation Data Center (NGDC) event which started in 2007, and a new CloudWorld conference, all managed by IDG World Expo. These events will be held over two days, August 12-13, 2009, in San Francisco at Moscone Center West.
OpenSource World is the true descendant of LinuxWorld, since it focuses on open source, open standards, and open architecture, as part of an integrated IT infrastructure. The conference will present Linux and open source ideas in a technical context, covered by industry experts.
CloudWorld is the hot topic addition, and will supposedly focus on infrastructure and services to drive deployment of cloud computing in the data center. That sounds a bit like the NGDC conference, which will focus on complete end-to-end solutions for the 21st century data center, and new technologies for those data centers. Separating the two topics seems like a marketing ploy, since any complete discussion of the modern data center includes both virtualization and cloud-based computing.
That being said, the energy that used to be channeled exclusively into LinuxWorld has found new avenues and new venues. The new conferences sponsored by the Linux Foundation come to mind - the Linux Foundation Collaboration Summit and the Linux Plumbers Conference - as well as many regional events that have grown over the years.
Review of LW/NGDC 2008
Last year was the second year LinuxWorld shared the convention center with the so-called Next Generation Data Center conference. This offered more sessions - but at different start times - and a broader set of tracks. In practice, it led to less crowding in most sessions.
There also was an almost independent Mobile Linux track that had several of its own keynote sessions. On the last day, there was a good panel, moderated by Raven Zachary, on "Keeping Mobile Linux Competitive", which discussed the players and potential upstarts in the mobile world.
There also were a few community tracks, including an Ubuntu Day. These seemed to be moderately attended, and I don't see these featured for upcoming 2009 conference.
However, there also was markedly less attendance at last year's LinuxWorld. The keynotes were held in the smaller room 134, which could only hold about 1000 attendees. The larger expo rooms in Moscone South were unused, and the escalators were turned off, part of the time. There was lots of room on the Expo floor, and I also noticed that both Red Hat, Inc. and Novell, Inc. weren't in the Expo for 2008.
The BoFs were also a bit odd, in 2008. They spanned two nights, but were only a single hour long. So, they were all happening at the same time, and some of the invitational social events also occurred that same hour.
These were some new features from 2008:
Software Central - a collection of software solution vendors in one dedicated area of the exhibitor show floor.
The AppZone - Easily find open source solutions and software running on Linux consolidated into their own feature area within LinuxWorld.
The Linux Garage - A place to catch the latest and coolest gadgets based on embedded Linux, including PDAs and hand-held computers, mobile phones, home automation, audio/video entertainment devices, appliances, and robots.
The Linux Desktop Shootout - The Linux Desktop Shootout let attendees test-drive and compare the top Linux-based desktops, score usability tests, and have the chance to win a PC and distro at the Expo.
Installfest For Schools - Untangle organized a massive installfest on the show floor to donate open source (Ubuntu) computers to schools in need. The hardware was supplied by the Alameda County Computer Resource Center (ACCRC), which recycles discarded computers from businesses, government and the general public. LinuxWorld attendees could join the installfest by installing Ubuntu or Kubuntu, hacking older hardware, or donating unwanted computers.
There also was a great area on the floor demonstrating the use of open source in the development of new voting systems. This included trial voting machine and a mock presidential election. (Obama won handily with about 3/4 of about 800 votes cast.) This was sponsored by the Open Voting Consortium. See more details here: http://www.openvotingconsortium.org/blog/2008-aug-29/success_at_linuxworld/
Jay Lyman of the 451 group referenced his firm's research report, "The Rise of Community Linux", which cites the initial use of non-commercial distros in the enterprise. Lyman said he sees more use of Ubuntu, CentOS, and Debian in the data center, and noted it is now possible to get HP support for Debian. His blog entry after LW08 summarizes many of his points. Here's a quotation:
"What we found is that it can work both ways. Community Linux can very often serve as entry into the open source OS and lead to broader, more advanced use all the way up to commercial subscriptions. At the same time, community Linux versions (that is, for our purposes, a community-developed, freely available Linux operating systems for the server) also presents an appealing alternative to commercial Linux. It can be a particularly good option when the code is identical and perhaps more flexible, as is the case with CentOS for Red Hat, or when the Linux distribution is getting easier to use and support, as is the case with Ubuntu, and when hardware providers and other players are offering commercial support for it."
I was also fond of Kyle Rankin's talk on using Knoppix for system rescue of both Linux and Windows boxes. Kyle is the author of "Knoppix Hacks" and "Knoppix Pocket Reference", and lays out how to use the forensic utilities for recovering lost files, partitions, MBRs, etc. See: http://greenfly.org/talks/knoppix/rescue.html (These slides have a delay time, and it's faster to move a slide ahead and then back.)
Here's a link to the LW-08 keynotes and selected presentations: http://www.linuxworldexpo.com/SitePage.aspx?site=10&id=b8e13a7c-ed35-47f3-bb82-37b6cf47e530
Summary
The conference archive from 2008 is rather limited, and old links to last year's program are redirected to this year's event. That may be marketing, but I certainly don't like it.
It seems the bulk of Linux enthusiasts are going elsewhere to hang out with their community, and for education as well. Perhaps the wave of Linux adoptions has peaked. Or perhaps a free Expo and free beer -- only on the last day, by the way -- is not enough to entice casual Linux users to commute by car or train for a few hours of the latest and greatest, not when petrol was hitting $4.20+ a gallon, and jobs were tightening up. We will have to see if the current economic contraction diminishes attendance even more.
LinuxWorld was a venerable institution. May its memory live long!
Let's view OpenSource World as a new event, and judge it on its own merits.
Talkback: Discuss this article with The Answer Gang
---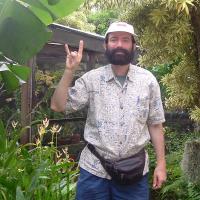 Howard Dyckoff is a long term IT professional with primary experience at Fortune 100 and 200 firms. Before his IT career, he worked for Aviation Week and Space Technology magazine and before that used to edit SkyCom, a newsletter for astronomers and rocketeers. He hails from the Republic of Brooklyn [and Polytechnic Institute] and now, after several trips to Himalayan mountain tops, resides in the SF Bay Area with a large book collection and several pet rocks.

Howard maintains the Technology-Events blog at blogspot.com from which he contributes the Events listing for Linux Gazette. Visit the blog to preview some of the next month's NewsBytes Events.